Reflections on The Three-Fold Path to Mastery An enlightened approach to life and work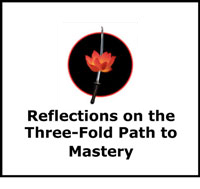 The creator of The Three-Fold Path to Mastery provides advice, guidance and thoughts for reflection on a range of topics including: Finding Your Guiding Purpose, Ethics, Fear and Challenge, How to Inspire Creative Thought, Productivity, Reliability, and others. Nicole Grace reads selected essays with inspirational advice on personal and professional development from the 2003 - 2004 issues of the monthly newsletter.
If you enjoy reading the "Messages from N. Grace" column each month, and/or if you would like to have an audio version of the CEO's inspiring advice, then you will love this CD.
Track Listing
Introduction
Finding Your Guiding Purpose
Review Your Resume Regularly
How to Have a More Productive, More Fulfilling Work Experience, One Day at a Time
True Mastery Requires an Attitude of Continuous Improvement
Ethics Are Not Found in Rules, But In the Heart
The Power of a Simple Gesture
The Power of Sales
Miracle
Balance
Ethics and Freedom
Reliability
Fear and Challenge
How to Inspire Creative Thought
For More Information
(Audio CD, 60 Minutes, $15.00)  Sold Out    We regret that this recording is not currently available. If you would like to be notified when it is back in stock, please sign up for our newsletter.